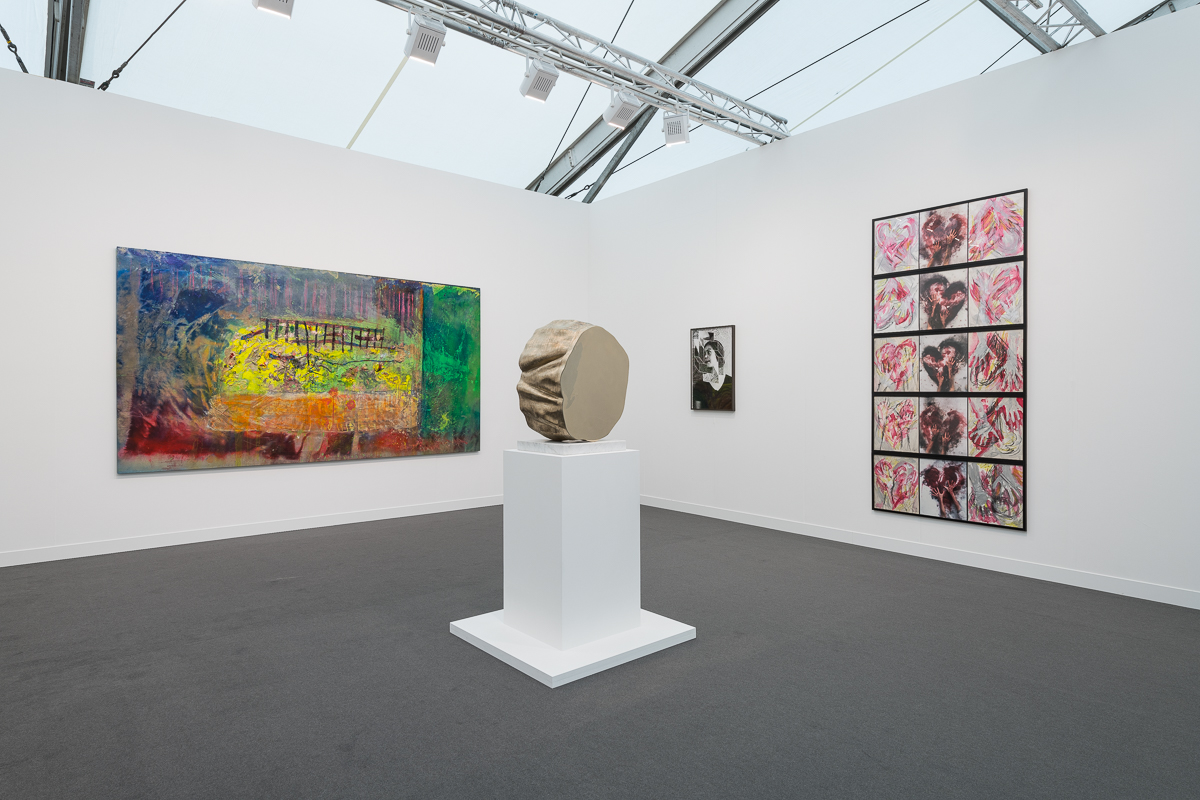 Photography: Damian Griffiths
Power Object (Section 1, No.1), 2018, Aluminium bronze composite with marble base, Bronze: 62 x 44 x 32 cm, 24 3/8 x 17 3/8 x 12 5/8 in, Marble: 5 x 40 x 40 cm, 2 x 15 3/4 x 15 3/4 in
Debuting at Frieze London 2018, Power Object (Section 1, No. 1) (2018) sees Price continuing to explore material culture and materiality within a wider exploration of racial and social identity, perception and representation. The work is a timely, unflinching contribution to an increasingly urgent conversation about the histories and meanings of public monuments and statues. Subverting expectations of cultural and aesthetic values of monumentality, the sculpture raises pertinent questions surrounding preconceived notions of black identity and masculinity.
The sculpture of polished bronze is luxurious and monumental, first appearing to be an abstract, meteor-like form balancing on a marble base. These traditional materials combined with the aesthetic of 20th century Modernism situates the work within a British art historical narrative dominated by white male sculptors such as Moore and Caro. Manipulating this visual language, the artist frames perceptions of race and social identity under a veil of abstraction. The work gradually reveals itself to be an anonymous section of a male figure, with an ambiguous object in a pocket.
Thomas J Price's assertive title encourages a line of questioning as to what the Power Object is. It could be the material used to represent the body, the groin, or the shape in the back pocket. Open to interpretation, the unspecified object in the pocket has the potential to be as inoffensive as a mobile phone. However, are we as a society conditioned to read even this as a threat of something dangerous when associated with particular groups of people? The second part of the title, Section 1, No.1 refers to British Stop and Search policy, which allows Police Officers to exercise their power to search anyone at any time. Spotlighting a global, discriminatory problem of when these powers are negatively enforced over another's body and self, the work explores a dichotomy of vulnerability and perceived power attached to black masculinity. Due to its highly polished surface, the viewer is confronted with their own slightly distorted reflection as the sculpture demands a level of personal accountability.
Price is fascinated with the minutiae of body language, for this piece he studied men who, outwardly, appeared to be posturing or displaying overtly machismo behaviour. Noticing that these seemingly threatening gestures are often exhibited by those who are the most vulnerable or exploited in society, the artist considers their body language as comforting actions, used to make them feel more secure in environments where peopleare displaying micro and macro aggressions towards them.
Challenging artistic institutions and the traditional holders of power, Power Object (Section 1, No.1) (2018) creates an alternative narrative that seeks to highlight the mechanisms in place that reinforce cultural values. Thomas J Price aims to challenge historical stereotypes by reclaiming the body from an art history that has contributed to an objectification and misinterpretation of black male identity.